Commonly Sought-After Caravan Manufacturers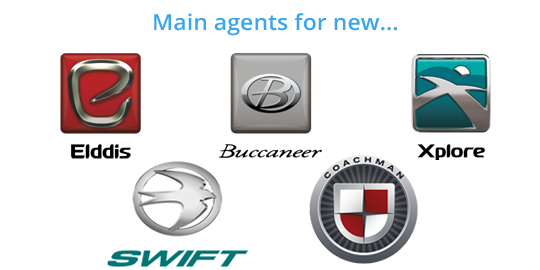 With 'staycations' rising in popularity and more people wanting to have mini-breaks here in the UK, it is no surprise that the interest in touring caravans is increasing too. It goes without saying that investing in a quality used caravan is a brilliant idea if you're wanting to explore what the UK has to offer come rain or shine and they are undeniably a brilliant, and much more flexible, alternative to traditional accommodation options.
When investing in a touring caravan, you will have several different things to take into consideration, from the berth you require through to the layout, and thankfully there is the perfect solution to everyone's needs nowadays. Of course, before choosing a caravan, you will also have to decide which manufacturer/brand you're wanting to invest in and narrowing these down isn't always easy, especially if you're new to caravanning. 
So, to help anyone who is trying to decide which touring caravan is best for them, below we have looked into some of the most commonly sought-after manufacturers in more detail. 
Bailey caravans 
For 70 years now Bailey has been designing leisure vehicles and they are all manufactured at their workshop in South Bristol. Bailey is arguably one of the most well-known caravan brands and their touring caravans capture the nation's adventurous spirit. They're known for pushing the boundaries of engineering and innovation, and the Alu-Tech approach to bodyshell construction is proof of this. This is a brand many turn to for both new and used caravans. 
Swift caravans 
Founded in the 1960s, Swift has been manufacturing caravans that excel in the key areas of design, quality and also value for money. As a brand, they care about the impact their products have on the environment and they are continually working to reduce the carbon footprint of their caravans. They pride themselves on building leisure vehicles that are at the heart of holidays, enabling people to experience wonderful new places and they are a very popular choice.
Elddis caravans
With over 50 years' heritage, Elddis is a respected brand that has designed and manufactured multi-award-winning caravans, motorhomes and campervans. With both traditional and more contemporary designs to choose from, they have a touring caravan that meets everyone's needs both aesthetically and functionally. Elddis is known for leading the way with must-have features and exciting specification, and it is easy to see why they are so sought-after. 
Coachman caravans
Although a fairly young brand when compared to the others, hand-building their first caravan in a small factory in Hull, East Yorkshire back in 1986, Coachman is still a huge contender in the industry. Their touring caravans are created to inspire, assure and enjoy, and this philosophy lies behind everything they do. People are drawn to Coachman for the small home from home comforts they add into their designs and this is part of what makes this brand so special.
Adria caravans
Since 1965, Adria has been designing and manufacturing touring caravans and they are known for being a reliable brand. Their caravans feature their unique 'Comprex' construction, combining the strength of wood, the durability of polyurethane and the moisture-stopping properties of polyester, so you can trust that they have been robustly built. They are a popular choice for second-hand caravans and they are designed to perform for many years. 
Visiting a caravan dealer in the Midlands
All in all, there is no denying that all of the different manufacturers mentioned above are a brilliant choice and whether you're investing in a new or secondhand caravan, you can confidently choose any of them. Of course, one of the best ways to narrow down the many different options you have to choose from when purchasing a caravan is to visit a caravan dealer and see the various manufacturers, layouts and designs in person. 
If you're looking for a caravan dealer in the Midlands, be sure to check out the Bicester Caravans website. As a well-established and family-owned business, you can trust that we will have a brilliant selection of both new and used caravans, and motorhomes too, on-site for you to browse and we will gladly help you choose the right model for your individual needs. You will find our location along with our opening times on our website, so feel free to pop down to our dealership whenever is convenient for you.