The Importance Of Regular Caravan Servicing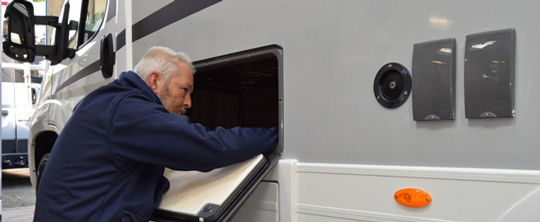 As a new caravan owner, you will probably have a lot of questions surrounding the regular required maintenance of your van and it is worth noting that because they are completely different vehicles to cars, they have a different set of rules when it comes to things such as MOTs and services. Simply put, your caravan won't require an MOT, however, it is your responsibility as the owner to ensure that your van is safe to travel on the road. 
In order to keep your caravan in a safe and roadworthy condition, many professionals will recommend that you have a comprehensive service one a year. However, due to the fact that a service isn't actually a legal requirement, many will question whether it is really a worthwhile expense. Whilst any caravan experts will assure you that it is, you may be wondering why it is so important. For this reason, below we have listed some of the main reasons why you should always have an annual caravan service. 
Keep all elements of your van working as they should be
A complete caravan service will make sure that all essential parts of your caravan are working exactly as they should be. From the electric, gas and water systems to the bodywork and ventilation, every single important part of your caravan will be checked during a service. Meaning, when you use it, you won't have to worry about unexpected issues arising. 
Prevent any costly replacements 
As you may expect, having to completely replace a whole system in your caravan can be incredibly expensive. Thankfully, during a service, any small problems will be picked up on and the repairs required can be completed. You may find that your annual caravan service can actually go on to save you hundreds, if not thousands, of pounds. 
Make sure you're able to use your caravan during summer 
Commonly, caravan owners will book their service in for winter, usually around January/February time, so that their van will be ready for them to use again during the next camping season. This service will help to prevent your future holidays from being cut short due to problems arising and then your caravan being stuck in a workshop all summer. 
Keep your warranty and insurance valid 
The majority of new caravans will come with a warranty, some second-hand caravans might too, and in order to keep your warranty valid, you will probably need to carry out an annual complete caravan service. You may also find that some insurance companies require you to have an annual service too and this may even make your policy slightly cheaper as well. 
Ensure you and your family are safe 
A comprehensive caravan service isn't just about your van's safety, it is also about yours and your family's too. During a service, things like your smoke and carbon monoxide alarms will be checked, as will your fire extinguishers and blankets. This means you can then go on using your caravan knowing that in the event of an emergency, these essentials won't let you down. 
Improve the resale value of your caravan 
Many caravan owners want to upgrade to a newer model after some years of having the same van and, when doing so, many will choose to sell their current caravan or trade it in. When you have a full-service history, you can expect your caravan to have a higher resale value and be more desirable to buyers. Even if you have only just got your van, this is worth bearing in mind.
Booking a complete caravan service in Bicester
All in all, it is fair to say that whilst you may not be required by law to have your caravan serviced on a regular basis, it is undeniably important to book it in for this comprehensive check annually. It is essential to ensure that your caravan is safe and roadworthy and, of course, the many additional benefits that are associated with a service definitely make it a worthwhile expense. 
If you're searching for somewhere where you can get a complete caravan service in Bicester, please visit the Bicester Caravan & Leisure website today. We pride ourselves on providing reliable and efficient annual caravan and motorhome services to those in need. Our experienced team carry out all types of maintenance, repairs, checks and valeting services at our workshop and you can rely on them to provide you with the exceptionally high standard of service you're looking for.