The Undeniable Benefits Of Purchasing From A Used Caravan Dealer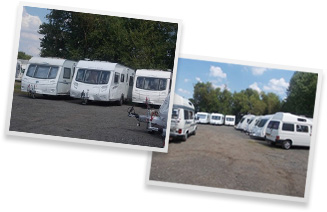 Every year, many people choose to upgrade their tent to a caravan and if you enjoy camping then this is a brilliant idea. There are a number of reasons why many prefer a caravan to a tent, such as having private facilities and a comfy bed – so you can guarantee that you would never regret this investment. One thing that is incredibly obvious when you move from a tent to a caravan is the increase in price, and for many, this is what leads them to the secondhand market. 
Thankfully, lots of caravan owners sell their old caravan when purchasing a new one, similarly to how you do when you purchase a new car, and for this reason, there are so many different used caravans on the market nowadays. When deciding to purchase a secondhand caravan instead of a new caravan, you have the option of purchasing from a private seller or a used caravan dealer and, it is fair to say that turning to a dealer is always recommended, below is a list of reasons why you should do so. 
You will be provided with a warranty 
It goes without saying that this is the biggest benefit to purchasing from a used caravan dealer. More often than not, you will receive some form of warranty and this can give you complete peace of mind. When handing over thousands of pounds, a warranty should always be provided and you won't get this with a private seller.  
You will be able to see a detailed specification
It can be difficult to get all of the information that you need when purchasing a pre-owned caravan. Often, private sellers won't list the caravan properly and this can lead to you going to see caravans that aren't suitable for your needs. All used caravan dealers will provide detailed specifications and descriptions, as well as photos, so you will have everything you require.
You won't have to worry about any hidden problems 
This is often the biggest concern when purchasing something secondhand and many worry about potential hidden problems. When you turn to a used caravan dealer, you can trust that the condition will be exactly as described and it will be fit for purpose. You can guarantee that they won't sell you a faulty caravan and should you have any issues, your warranty will cover you.
You can view the caravan in person and ask questions
When you turn to a used caravan dealer, they will happily show you the caravan and you can spend as long as you'd like looking around and exploring everything it has to offer. They will also be able to answer any questions that you may have about the caravan and ensure you have all of the information you require, something you don't always get with a private seller. 
You will have lots of caravans to choose from
Should the caravan you're interested in sell before you get the chance to go and see it, you can trust that a used caravan dealer will have lots of other options for you to choose from. They will also be able to recommend specific makes and models depending on your individual needs, so the shopping process will be much easier and less stressful. 
You have the option to part exchange 
Whilst this might not be beneficial to you if you're purchasing your first caravan, should you wish to upgrade in the future, it is worthwhile knowing. The majority of caravan dealers will offer the opportunity to part exchange your caravan, even if you're purchasing a used caravan. As you're probably aware, this will help to bring down the cost of the caravan you're interested in buying. 
Purchasing from a used caravan dealer 
Ultimately, there is no denying that it is always beneficial to turn to a used caravan dealer instead of a private seller and you can guarantee that you will thank yourself for doing so. Whilst you may be able to get a caravan slightly cheaper when you purchase directly from the previous owner, it is fair to say that the complete peace of mind you get from a used caravan dealer is worth the ever-so-slightly increased price. 
If you're looking for a reliable used caravan dealer, be sure to Bicester Caravan & Leisure in Oxfordshire. We are a well-established family-owned business and we pride ourselves on being able to provide people with a huge range of pre-owned caravans. With a vast selection of makes, layouts, berths and prices to choose from, we have something to suit both your needs and your budget. We will gladly provide you with any assistance that you may require when choosing your secondhand caravan too and you can rely on our friendly team to help you make the right decision.