Things To Consider When Choosing A Caravan Storage Site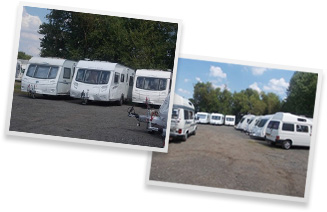 It is fair to say that when you own a touring caravan, or even a motorhome, it is incredibly beneficial to use a professional storage site. Even if people have the space to store their caravan at home, a lot of the time they will still choose to use a storage facility and the peace of mind that this can provide makes it almost always a worthwhile expense. 
Nowadays, there are lots of caravan storage sites to choose from and they really can be found everywhere from farms to caravan dealerships. As you may expect, because there is so much choice, deciding where to store your caravan isn't always easy and it goes without saying that you will want to ensure that you're opting for the most suitable location near you. So, to help you decide where to keep your caravan, below is a list of important things to consider when looking at different caravan storage facilities. 
The location of the storage site
This is arguably one of the most important things to think about when you're choosing a caravan storage site. You will have to pick your caravan up before every holiday or weekend away and drop it back off again afterwards, so think about how close to home you'd like the storage to be. Also, think about the convenience of getting onto a main road from the storage site too. 
The security in place at the facility 
It is absolutely essential to ensure that you're choosing a secure storage site otherwise you run the risk of your caravan being stolen or damaged, however, consider what level of security you're looking for. For example, would you be happy to leave your caravan somewhere with perimeter fencing and secure gates or would you like CCTV cameras too?
The size of the caravan spaces 
These days, caravans come in a range of lengths and widths, so you will need to think about the size of the storage space you're looking for. If you have a twin/double axle caravan then you will probably need a more spacious pitch and you don't want to have to worry about squeezing your caravan between other caravans every time you drop it off. 
The type of spaces offered on-site 
Not all caravan storage facilities will offer hard standing pitches and you will need to consider whether this is something you're interested in. Generally speaking, lots of people prefer hard standing spaces and there are quite a few benefits to keeping your caravan somewhere hard standing, so make sure you look into these before making your decision.
The amount the storage costs 
Of course, you will have to think about how much you're able to spend on your caravan storage too. You may not be surprised to hear that different facilities charge different prices for their storage spaces and some will be more affordable than others. That being said, when comparing prices, always remember to bear in mind what you're actually getting for the price you're paying. 
The opening times of the facility 
This can be easy to overlook, but opening times are always important to take into consideration and some facilities will only be open from 9 am until 5 pm, for example. Think about what time you would usually set off to go on holiday and what time you usually get home, it is essential that you will be able to collect and drop off your caravan at a time that's best for you. 
Finding suitable caravan storage in Oxfordshire 
All in all, there is no denying that it is important to find the right storage facility when you're looking for somewhere to keep your caravan, and you will always thank yourself for taking the time to find a suitable site. Hopefully, by thinking about everything mentioned above, you will have a better idea of your individual storage needs and you can then ensure that you're only looking at facilities that are able to meet these. 
Bicester Caravan & Leisure are a well-established caravan dealership and a family-owned business. We are very passionate about caravans and we know first-hand the benefits of spending time exploring the outdoors and sharing such great experiences and memories. With family at the heart of everything we do, we are proud to sponsor the Adolescent and Child Health Care Award 2021. The last year has been particularly challenging and we welcome the opportunity to show our support to all the carers, nurses, doctors and charities, as individuals and as teams who have dedicated their lives to the care and treatment of children and adolescents across Oxfordshire. Should you have any questions about our caravan storage in Oxford, feel free to get in touch today.