What Makes A Second Hand Touring Caravan A Brilliant Investment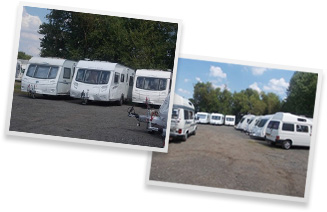 Caravan holidays can have a bit of a bad reputation, but long gone are the days of cold nights in cramped sleeping bags. Caravan designs, and therefore this type of holiday, have come a long way over the past few decades and, in fact, it is actually becoming more common for people to opt for a caravan holiday over a weekend in a hotel and it goes without saying that there are several benefits to doing so. 
Now that people are aware of just how affordable second-hand touring caravans, in particular, can be too, many find themselves wanting to invest in their very own leisure vehicle to enjoy. However, this is still a big purchase to make and many tend to ponder on it for a long time weighing up all of the pros and cons. If you have been considering purchasing a second hand touring caravan for a while now and you're still wondering whether it is a worthwhile investment, keep reading. 
Increase the amount of time you spend time with family and friends 
Booking a holiday with your whole family or a large group of friends can be incredibly expensive and this means that it probably doesn't happen as frequently as you'd like. If you purchase a second hand touring caravan, this will soon change. Planning a trip away with lots of people has never been cheaper or easier and you really can have a great time all together on a campsite. 
Even if you only have a four-berth caravan, putting up an awning can instantly double your sleeping space, so you won't have to leave anyone at home, not even your four-legged furry friends either. Unlike lots of other holiday accommodation options, the majority of campsites nowadays are dog-friendly and you can trust your dog will enjoy the trip just as much as you.
Dramatically reduce the costs of your future holidays 
Unlike other types of holidays that require lots of savings to pay for, caravan holidays are much more affordable. Although the upfront cost of your second hand touring caravan is an investment, over time, it will practically pay for itself with the amount of money you will save on future holidays for many years to come. 
Once you have your own touring caravan, all you will need to pay for are your campsite fees and because they have fully-equipped kitchens on board, you can even cut costs on your food and drink too. You will likely be shocked as to how affordable a week away in your caravan can be, especially when you compare it to any other type of holiday. 
Enjoy many more spontaneous weekends away 
Whilst it is becoming easier to book last-minute holidays in general, nothing will be as easy as arranging a spontaneous trip in your caravan. When you own your own touring caravan, you can hitch up and travel to anywhere in the UK with ease and you will likely find yourself making the most of every free weekend you have available. 
Since all of your essentials, from towels and toiletries to cutlery and condiments,  can be kept in your caravan, you won't have to worry about having to pack at short notice either. Some people even choose to keep spare clothes in their caravan too and if you're enjoying yourself so much that you want to extend your stay on a campsite, you can easily do so. 
Purchasing a second hand touring caravan
Ultimately, if you're contemplating purchasing a second hand touring caravan this year, then it is undeniably a brilliant investment and one that you will make good use of. It is fair to say that there are many reasons why it is worthwhile purchasing a touring caravan and of course, the money that you can save by opting for a second-hand model makes it an even better investment. You can guarantee that you won't regret spending your money on a caravan. 
If you'd like to see some second hand touring caravans in person before making your final decision, please feel free to visit us at Bicester Caravans. We are very passionate about caravans and being caravanners ourselves we know first hand what it is like to own a caravan, so we will gladly answer any questions that you may have in this regard. We also have a brilliant selection of pre-owned caravans for you to choose from, varying in weights, layouts, makes and sizes, and they are all reasonably priced too. Why not take a look at our current range of touring caravans for sale over on our website today.