Why‌ ‌It's‌ ‌Always‌ ‌Beneficial‌ ‌To‌ ‌Use‌ ‌Professional‌ ‌Caravan‌ ‌Storage‌ ‌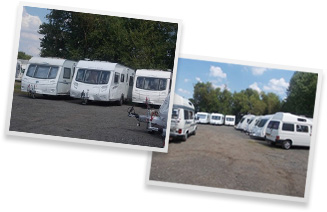 There are so many benefits to owning a caravan and many are investing in these portable holiday homes nowadays. However, when doing so, it is always essential to think about where you're going to store it when you're not having a holiday in it. Unlike a car, your caravan can't simply be parked on the road outside your home, there are a number of regulations to comply with when attempting to do so, and you will need to arrange a practical storage solution. 
Thankfully, you do have a few options to choose from in this regard, such as at-home storage, a storage facility or a seasonal pitch. Generally speaking, the vast majority of caravan owners who don't have the room or don't feel comfortable keeping their caravan at home will choose to find a local caravan storage site. In fact, there are a number of reasons why professional caravan storage should be the first choice in this regard, including; 
Highest level of security
This is one of the biggest benefits of using a caravan storage facility. Caravan storage site owners understand just how important security is and they will ensure that your caravan is adequately protected when kept at their facility. Often, they will have a range of perimeter security solutions, a CCTV system in place and sometimes, the site owners will even live on the premises too. So, you can rest assured knowing your caravan won't get stolen or damaged. 
Dedicated spacious pitch  
When you turn to a professional caravan storage facility, you will be renting a pitch on their site, so you won't have to worry about manoeuvring your caravan into a small space on your driveway. Their pitches tend to be fairly spacious and they won't be too difficult to drive your caravan into. Once you have been given a pitch, this will solely be yours too, so every time you put your caravan into storage you can drive straight to your spot without any hassle. 
24/7/365 access
Even though caravan storage facilities are secure, at the majority of sites you will still easily be able to access your caravan whenever you'd like to. You will usually be given a code, key or fob which enables you to gain entry through any security solutions in place. Opening hours will vary from facility to facility, but some will even provide you with 24/7/365 access, so you won't have to worry about picking up or dropping off your caravan during business hours. 
Cost-effective solution 
You might begrudge paying for professional caravan storage, but more often than not it is one of the most cost-effective solutions available. Different facilities will have different rates, but they tend to be competitive and some even offer discounts depending on how long you rent a pitch for. You can also expect to save money on your caravan insurance too when you choose a storage facility with impressive security features. 
Additional services on site 
It isn't uncommon for some caravan storage site owners to also provide additional services too. You may find that they offer reliable maintenance and repair services on-site, so you can easily keep your caravan in good condition whilst it is in storage. Not only does this save you the time and hassle of taking your caravan elsewhere for the additional services you require, but sometimes you will be offered better rates because you use their storage facilities too. 
Finding caravan storage in Oxford 
Ultimately, whenever you own a caravan, or a motorhome, it is undeniably important to ensure that you have somewhere safe and secure to store it when you're not using it. Arguably, this is something that you should look into before you even purchase a caravan and it is essential to find somewhere you can trust to keep your van. If you're searching for caravan storage in Oxfordshire, be sure to visit the Bicester Caravan & Leisure website. 
Not only are we a well-established caravan dealer, but we also have a high-security storage facility too. We have 75 hard standing spaces that can be rented by both caravans and motorhomes, and you will have complete peace of mind when storing your caravan with us. Our storage facility has security features such as CCTV, perimeter fencing, secure gates and personnel on-site 24 hours a day. To find out more about our caravan storage in Oxford, don't hesitate to contact a member of our friendly team today.